Waterline Construction Continues!
For the weekly update on construction progress and/or for the roads to be served click here.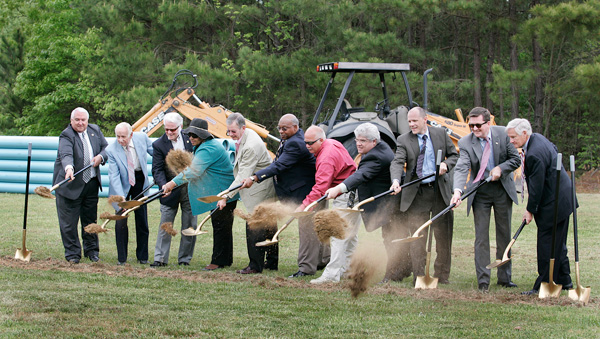 Construction within Phase 1A (Sandy Creek Township area) began on July 9th and continues throughout the eastern part of the County.  It is anticipated that construction will take 9 months within this area.  The County is still offering taps for the reduced fee of $125.  Please sign up as soon as possible to take advantage of this reduced rate.
Teams are working hard to install the pipes that will serve the water needs of the county.  In addition to installing the water line, crews have begun construction of the water tank for Phase 1A.  It is anticipated that tank construction should be nearly complete by the end of February 2013.
Overall Project Progress
Overall, construction within Phase 1A is over 50% complete.  Construction within this phase is scheduled to be completed by July 2013.  Over the next few months the Planning and Development Department will be reaching out to those individuals that have purchased a tap to coordinate the exact location for the tap.  For those that have not yet signed up, we are still offering taps for $125.
Construction for Phase 2 is slated to begin in late spring of 2013.  This will include areas within Dabney, Williamsboro, and Townsville Townships.  We are actively seeking signups within these areas as this will be the next phase begun over the next few months.
Project Description
The Vance County Water District has begun construction for Phase 1A of the countywide water project.  As planned the entire project includes the following phases: Phase 1A, 1B, 2A and 2B.  For a map of the phase locations, click here.  For a map of roads to be served within Phase 1A based upon current signups, click here.
As envisioned the total project would include up to 167 miles of pipe and extend through the majority of the County.  The size of the project however will depend on the number signups in order to make it a financially feasible and sound project.  In order for a waterline to be feasible along any given road within the district, the County will need at least 12-14 houses per mile to sign up.
How do I sign up?
The County is currently taking signups for hooking up to county water.  Property owners need only to submit a sign up form and $125 to the Vance County Planning and Development Department.  The discounted tap rate is currently $125, but is set to increase significantly after the water line passes a resident's home (increase could be as much as $750 during construction or as much as $2,000 after construction).
For answers to your questions or to signup contact the Vance County Planning and Development Department at (252) 738-2080.
Sign up today to receive the reduced rate!