VANCE COUNTY FARMERS MARKET
NEW FACILITY
, 
OPENING SPRING OF 2014!
Construction is complete on the new Farmers Market, located at 210 Southpark Dr. in Henderson (just off Beckford Dr., near the Social Security office). The Market will open this spring, around mid-May (exact date to be announced). It will be open on Wednesdays and Saturdays, 7:30 am to 1 pm. Vendor guidelines and application form can be downloaded from http://vance.ces.ncsu.edu.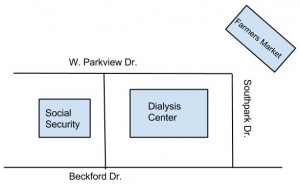 For more information, contact paul_mckenzie@ncsu.edu or the Vance County Extension Center at 252 -438-8188.
This project was made possible through the generous support of Vance County Farm Bureau, NC Tobacco Trust Fund, NC Agricultural Development & Farmland Preservation Trust Fund, and numerous local businesses and organizations.