FOR AFTER HOURS EMERGENCIES: Call Envirolink at 252-235-4900
VANCE COUNTY WATER DISTRICT
ENVIROLINK, INC. (System Operator)
4700 Homewood Court, Suite 108
Raleigh, NC 27609
Phone: 252-235-4900  Toll-Free: 1 (888) 754-9878
Fax: 252-235-2132
Email: customerservice@envirolinkinc.com
The Vance County Water District (VCWD) is a public water system that serves the potable water needs of several townships throughout Vance County.  These townships are as follows:
Sandy Creek Township (Phase 1A) – Water served as of October 2013;
Dabney/Williamsboro Township (Phase 2) – Water served as of February 2015;
NC 39 South (Phase 3)  – Water served as of November 2019;
Kittrell Water Association – Vance County purchased KWA system and began operating in October 2018
Phase 1B – Kittrell Expansion Phase – The County is developing plans with intentions of building this system soon.
Informational Brochure (Click below for fullsize)
Connection Fees (standard 3/4 inch residential connection)
Connection Fee – $1,600
Cost of Meter and Install Fee – $195
Refundable Security Deposit – $150
Bore Fee (if waterline is on opposite side of road from property) – $750
Fees are payable at time of request for service and checks should be made out to the Vance County Water District.
Connection Process
Step 1: Complete and submit Vance County signup form and Envirolink service application to Envirolink, Inc with any applicable fees.  Renters must provide a copy of their lease and driver's license when applying for service.
Step 2: Envirolink will process the application and notify you and the County Planning and Development Department that your account is set up and that the Water District intends to provide water service to your property.
Step 3:  Once you receive notification from Envirolink, you may hire an NC licensed plumber and apply for a $50 plumbing permit from the County Planning and Development Department (some plumbers may get the permit for you).  The plumbing permit is required before you begin installing the line from your house to the meter box.  While the plumber may pull this permit for the you, the property owner is responsible for ensuring that a permit is received.  The Planning and Development Department will not issue the Plumbing Permit without receiving notification from Envirolink that you have applied for water service.
Step 4: Once you are able to determine a date that your plumber will connect to the meter box, you will need to contact the County Planning and Development Department for an inspection.  The Planning and Development Department will notify Envirolink to schedule installation of the meter on the same day as the inspection.  The inspection and installation of meter should take place at the same time, but you should be prepared to be without water for a few hours on the day of switchover.
Water Rates
Effective July 1, 2017 – $30 base fee + $10.33 per thousand gallons.  This translates into a usage fee $0.01033 per gallon.  See below for a breakdown of every dollar spent: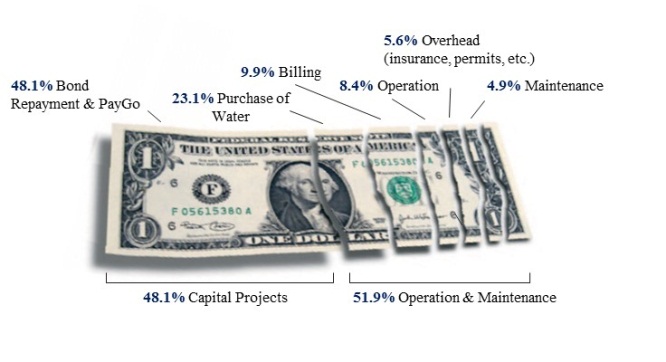 Paying my Water Bill
Water bills can be paid by check or money order and can either be mailed directly to Envirolink at their mailing address shown above, or can be paid in person at the Envirolink Satellite office.  The office is located at 122 Young Street, Henderson NC and as of October 2022 is open for payment on Monday – Friday from 9AM to 1PM.  Check or money order should be made payable to 'Vance County Water District'.  Also bills can be paid online – see link on this page.